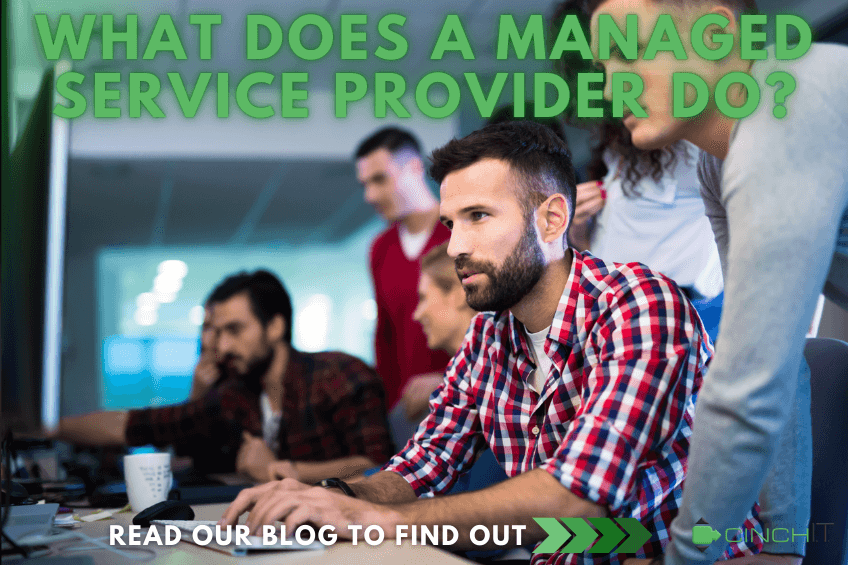 Today, businesses use Information Technology (I.T.) for their daily operations. For your business to innovate, improve its productivity and customer experience, and stay secure, a robust I.T. system is necessary. However, small to medium business enterprises typically lack the resources and expertise to maintain this infrastructure. That's where managed service providers come in – providing businesses of all sizes with robust and reliable I.T. solutions.
What Is a Managed Service Provider?
A managed service provider (MSP) is a third-party company that helps to ensure that your I.T. systems run smoothly, stay secure and up-to-date, and handle daily technical issues for your business. To be specific, an MSP will assume responsibility for one or more of your business's I.T. services, such as cybersecurity, computer support, networking, data storage, and more.
You can think of MSPs as I.T. teams on demand. With managed service providers, you won't have to worry about creating and maintaining a secure and reliable business I.T. infrastructure. You'll have experts taking care of this for you, leaving you to focus on what matters – running and improving your business.
The ability of MSPs to provide comprehensive and customized I.T. solutions has them garnering popularity among businesses today. Studies predict that 60% of all US organizations will depend on an MSP by 2025. Organizations are turning to MSPs because of what they do for them. Having said that, what exactly does an MSP do?
The Many Roles of a Managed Service Provider
As mentioned earlier, MSPs manage your I.T. systems for you, but they do it as a third-party company. MSPs provide flexible I.T. solutions for your business. Hence, before starting your relationship with an MSP, you will have first to meet up and assess your organization's needs. Then, the MSP will adjust its offerings to meet your specific business needs. This model is contrary to outsourced traditional support, which employs a one-size-fits-all model.
Managed service providers offer several outsourced services to companies from different industries. Some of the common solutions MSPs provide include:
Proactive Daily I.T. Support
MSPs employ highly qualified experts using advanced monitoring tools to keep a constant close eye on your I.T. systems in real-time. Since they do this on a daily basis, they can identify and address system issues before they escalate into significant problems. Suppose your network becomes slow or goes down. The MSP can troubleshoot and fix the issue in no time. The MSP also ensures that your systems are up-to-date, and this helps to minimize system failures.
Seamless Network Management
MSPs are responsible for managing and optimizing your network infrastructure, including the software and hardware components that enable your staff to communicate. Here are some of the things an MSP can do to manage your network:
Identity management – Creating policies to allow your staff to access business resources securely. This process might include creating a virtual private network (VPN) for your company.
Onboarding staff to your network – Creating web portals where employees can access the resources they need to work.
Supplying and managing network hardware – Such as on-premise servers or their cloud alternatives, switches, routers, and more.
MSPs can also provide support for your basic communication channels like phone and emails.
Cybersecurity
An MSP can protect your I.T. systems and network from cyberattacks. They typically deploy cybersecurity software to protect your network. In addition, you'll have expert cybersecurity staff monitoring your business's I.T., ready to snuff out and deal with any threats before they cause damage. Suppose the threats get through. They can help you with damage control to restore the integrity of your network and systems.
Cloud Migration and Adoption
Cloud computing is mainstream for businesses today since it provides them with a flexible and sustainable way to grow and operate. However, small and medium businesses find it difficult to migrate to and operate in the cloud. They may lack the resources and expertise to do so.
A managed service provider can play a crucial role in assisting your business to move and operate on the cloud. They provide several services that make the transition to the cloud smoother and more efficient. They can help you to:
Select the best cloud provider for your needs.
Migrate your data.
Deploy your network on the cloud
And more.
Data Storage, Backup, and Recovery
As your business grows, its data increases. An MSP can help you to pick out a suitable cloud storage provider for your data. The MSP will manage your data for you, allowing you to utilize it to drive your business forward. In the rare case that you suffer a data breach, you can work with the MSP to implement a recovery plan.
I.T. Compliance and Regulatory Adherence
Businesses operating in regulated industries like healthcare and finance have to worry about data protection and other industry-specific regulations. If you're one such business, an MSP can help you to meet these requirements. With dedicated compliance specialists, MSPs ensure that your business is meeting the required legal and ethical obligations.
Day-to-Day Help Desk Services
A managed service provider can be your external tech support staff, offering support to end users and offering solutions to daily I.T. issues. When your customers have questions about your I.T. services, they will be patched directly to your MSP's agents for assistance.
Whether you want to use them for computer support or cybersecurity, MSPs can be reliable and valuable partners in the modern business landscape. By entrusting your I.T. needs to an MSP, your business can thrive in this digital age while enjoying a stable and well-maintained I.T. environment.
The Major Benefits of Managed Service Providers
Outsourcing your I.T. operations to a managed service provider has several benefits for you and your business, including:
1) More time to grow and develop your business
As a business owner, you would much rather focus on the core functions that grow your revenue and develop your business. MSPs take the technical I.T. concerns out of your hands, leaving you with more time to focus on the growth of your business.
2) The best experts at a fraction of the cost
Managed service providers employ the best experts in I.T. and make them available to you at a fraction of the cost. You will have a highly qualified I.T. team at your service without having to go out of your way to recruit them individually. An MSP will save your business more money than you would otherwise spend hiring an in-house I.T. team.
3) Access to the latest technology to drive your business forward
Keeping up with the latest technologies and operating your business at the same time is no easy feat. Fortunately, MSPs will also relieve you from this hassle. Whether you want a new firewall, email encryption, or anti-malware, an MSP will ensure you have this when you need it. You won't have to deal with multiple subscriptions on several complex platforms – the MSP will take care of this for you, leaving you to focus on your business.
4) Improved security
Cybersecurity is a huge problem for small businesses, and outsourcing it to an MSP can greatly improve your business's security. MSPs stay up-to-date with the latest cybersecurity threats and trends. As cybercriminals evolve their tactics, your business's security will also evolve to combat them effectively.
Key Takeaways
Managed service providers have shown up as ideal partners to businesses that want to outsource their I.T. operations to third-party providers. They provide premium I.T. solutions at a fraction of the cost to allow businesses of all sizes to thrive in this digital era. With an MSP, you can focus on growing your business and have peace of mind that experts are proactively managing your I.T. systems.
Read Our Other Cybersecurity Training Guides
You can follow us on social media @cinchit for free tech tips and guides. Read more below for a handy list of business I.T. support services that we troubleshoot every day:
– Top 5 Password Manager Apps for Your Business
– Google Meet: How to Screen Share on a Mac
– How to Spot Fake Links in Your Emails
– Top 5 Cameras for Professional Zoom Meetings
– How to Find the Best Local Onsite Support
– Top 5 Computer Monitors to Work from Home
– Is Your Microphone Not Working on Zoom? Try This!
– Top 5 Antivirus Programs to Keep Your Computer Safe
– Troubleshoot a Multiple Monitor Display Issue
– How to Set Exchange 2013 Email Message Size Restriction
– Export Outlook Cached Email Addresses
– How to Safely Work from Home
About Cinch I.T.