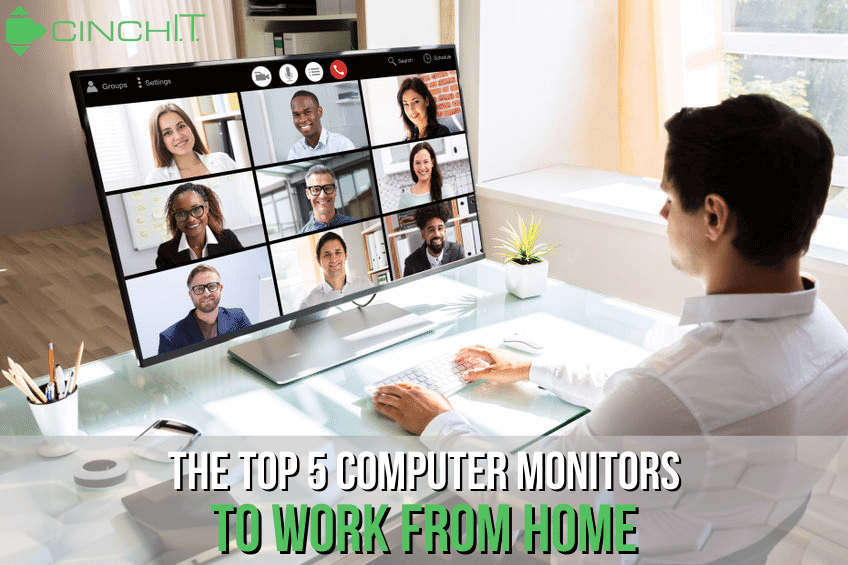 Is your business set up to work from home? If so, you'll need the right computer monitor to handle all your tasks. Granted, not all of us need the highest spec computer monitor, but you should still look for certain performance aspects at a baseline minimum.
This article will review the top 5 computer monitors to work from home. Of course, contacting your business I.T. support might be worthwhile before buying, as they might have more specific advice for you.
Depending on our job responsibilities, each will have a different idea of the best computer monitor. Our picks below consider different job types and computer services, so hopefully, there should be at least one option that suits your job.
27″ seems to be the optimal size for home working monitors. This Dell is perhaps the best computer monitor and comes at a very attractive price. It also has the best computer monitor arm with wide ergonomic settings. As such, it's ideal for all kinds of computer service environments.
It offers a 4K resolution with 1.07 billion colors, which translates to amazing picture quality. The refresh rate is 60Hz, generally enough for most home office jobs. Content creators might want to look elsewhere, though.
The monitor has 2 HDMI 2.0 ports, 2 USB-3, and a USB-C with power delivery. While it lacks other image output methods, it's easy to integrate into most standard work-from-home setups.
Pros
– Great all-round monitor
– Plenty of colors
– USB-C port is useful
Cons
– The contrast ratio isn't amazing
This ASUS monitor is a decent all-around option, providing you have the right hardware to back up its performance. It's a gaming monitor with a great refresh rate (144Hz), fast response time, and low input lag.
However, you'll need a specific graphics card if you want it to perform at its best. The monitor doesn't have an HDMI 2.1 port, although it supports HDMI 2.0.
The screen is 27″ with 4K resolution, although it looks great at 1440p, too. You'll also find 2 USB 3.0 ports and 2 DisplayPorts on the back. The screen uses IPS so that it can handle reflection and glare well. However, its contrast ratio isn't amazing, so media people might find it lacking.
Overall, the ASUS XG27UQR is a pretty decent monitor. It doesn't have the best monitor arm, although you can swivel it in a 50-degree range and tilt it in a 25-degree range.
Pros
– Decent screen performance
– Acceptable number of ports to work from home
– Good glare and reflection handling
Cons
– The contrast ratio isn't amazing
If you work with media as part of your job, this HP might be the best computer monitor to work from home. It's a 28″ screen with 4K resolution and a decent contrast ratio. The refresh rate is only 60Hz, but this is still enough when working with most media.
The monitor uses HMDI 2.0 as its display input and features 3 USB 3.1 ports and a USB-C port. You can plug your laptop into this, and it even provides charging in the process.
You get great color options across both DCI-P3 and sRGB ranges. The screen has seven preset color options depending on your media. But if these don't work, you can manually change the settings to your liking.
Pros
– Great for content creators
– Plenty of ports
– True-to-life color quality
Cons
– The refresh rate could be higher
Choosing the best computer monitor for your needs doesn't mean spending a fortune. If you need a no-frills monitor that doesn't break the bank, the ASUS VA24EHE could be it.
While it's only 24″, this should be enough for most home workers. It does have one of the best monitor arms on this list, although you can also mount it on the wall. The screen is 1080p and has a refresh rate of 75Hz. But for the price, this isn't bad.
One thing it does lack is connection ports. There's an HDMI 1.4, VGA, and DVI-D. You don't need anything more for 1080p, but it doesn't have USB ports or an audio jack.
However, it makes up for this in its eye-care features. It's low on blue light, meaning your eyes won't get tired, and it minimizes screen flicker. If you're staring at it for 9 hours a day, your eyes won't feel it.
Pros
– A budget-friendly option for home office work
– Eye care features
– Good adjustability features
Cons
– Lacks connection ports
At 32″, this massive Samsung monitor is great for large-scale setups to work from home. Although it's widescreen, the Picture-in-Picture function means it'll replicate screens perfectly, such as if you connect a laptop.
It offers up to 4K resolution with 1 billion different colors. The refresh rate is 60Hz, generally the lowest rate for H.D. monitors. However, it'll be fine unless you're working with high-end video.
The screen's maximum brightness is 270cd/square meter. It'll be fine in low-light rooms but will fall short in bright areas because its brightness is lacking. Also, it has no glare and reflection features, so you'll want to set it up somewhere dark.
It has an HDMI 2.0 port and audio out but no USB ports or DVI. Considering the price, this is a major drawback but highlights its intended use as a second monitor rather than the main one. Finding the best monitor arm can simplify this setup.
Pros
–  The large monitor is ideal for working from home
– 4K resolution
– Great color quality
Cons
– Lacking connection ports
– Brightness can feel subpar at times
Key Takeaways
Hopefully, you should now have a good idea of the best computer monitor for your home office. As you're setting up your workstation, install the right antivirus software and the right camera for any online meetings. If you need additional setup assistance, it may be worth looking at managed I.T. services to support you.