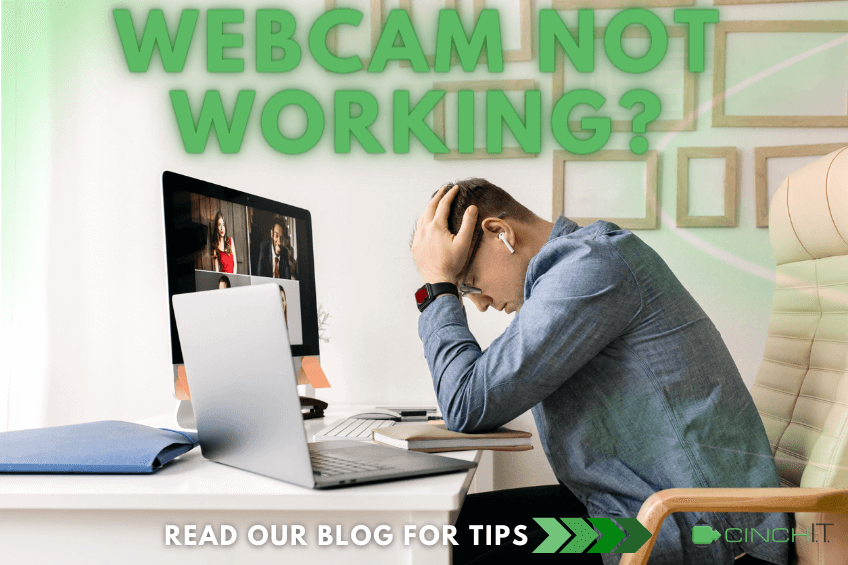 Today, webcams are essential tools for communication and collaboration in virtual meetings and video conferences. For video conferences or virtual meetings to be effective, your webcam needs to work properly.
Webcams face a variety of issues that cause them not to work well or fail to work at all. If you rely on webcams for remote work or online meetings, knowing how to troubleshoot these problems will save you a lot of time and frustration. By solving these issues, you'll ensure that your virtual meetings run smoothly.
In this post, we'll be looking at some of the common issues that cause webcams not to work. We'll walk you through how to identify the root causes and implement strategies to fix them.
How to Troubleshoot Webcam Not Working
Your webcam may not work as expected due to several issues. Most of these issues are quite easy to handle and you will likely not need the help of an I.T. services professional. However, if you find it difficult, don't hesitate to get in touch with an I.T. support company.
1: Webcam not detected
You'll likely face this problem when connecting a new webcam to your computer. When your computer can't detect the webcam it will display error messages such as these ones 'We can't find your camera' or 'Camera not detected'. This can be caused by any of these reasons:
The webcam is not connected properly.
You haven't given your webcam access permissions in the app you're currently using.
Camera drivers are outdated.
Therefore, solutions to fix these problems should primarily be centered around these reasons.
Solutions
First, you should ensure that the webcam is connected properly to your computer. This should be easy since most webcams use USB cables to connect to computers. But, remember that not all USB types are compatible with each other.
If your webcam is connected appropriately, here are other solutions that you can try out:
Allow your camera to access the application you're using. Most video conferencing apps will display a prompt asking you for permission, and all you have to do is click on 'Allow'.
Go to Device Manager and update the webcam driver. If you're not familiar with how drivers work, you can always leverage business I.T. support from a managed service provider to get this taken care of for you.
2: The webcam keeps turning off
A webcam turning itself off unexpectedly can be attributed to several factors, and diagnosing the exact cause may require troubleshooting. Here are some common reasons why your webcam might be doing this:
You have configured the computer's power management settings to turn off all USB devices, including the webcam, after a given period of inactivity.
Lose or unstable USB connections.
Conflict with other software that use webcams.
Solutions
The solution that works for you will depend on the problem that you've identified. The most probable reason for your webcam turning itself off unexpectedly is that it's been configured to do so in the power management settings. To fix this, access the power management settings and prevent USB devices from being powered down.
If you're using a Windows PC, go to Start > Settings > Power > Options. On a Mac, you'll be able to find the same settings in the Energy Saver section under System Preferences. If this doesn't work for you, ensure that the USB is firmly connected and that you've closed all background apps. If the problem persists, contact a managed I.T. services provider.
3: Poor video quality
Poor video quality is one of the most frustrating webcam issues. It can make you seem unprofessional and cause your audience to have a poor experience when you're making a presentation.
Your webcam can generate poor-quality video when it is out of focus due to incorrect resolution settings. This may also happen when your webcam lens is dirty or smudged.
Solutions
You can find the webcam's picture settings under Bluetooth & Devices. Select your webcam as the device you want to configure. Click on Basic Settings and adjust the contrast, sharpness, and saturation of the image to improve its appearance. In addition, ensure to clean the webcam lens using a microfibre cloth to remove any dirt or smudges.
NOTE: Sometimes a low video quality can result from poor lighting. As such, ensure proper lighting in your environment. Good lighting can significantly improve video quality.
4: No video or a black screen is displayed
Even after connecting it correctly, the webcam can still display a black screen without any video feed. This is a software issue where the webcam is being blocked by your privacy settings, another software such as your antivirus. It can also be a hardware problem where the webcam's lens cap has not been removed.
Solutions
To solve this problem, you need to identify what is blocking the webcam. First, ensure that the lens cap of your webcam has been removed. Next, you'll want to check your privacy settings, and here's how you go about it.
Open your computer's settings/system preferences application.
Locate your computer's camera privacy settings to see which apps are allowed access to your camera.
Include your video conferencing software among them.
You can also temporarily disable your anti-virus software or edit its access permissions.
5: Your webcam freezes or crashes
Your webcam could also freeze or end up crashing in the middle of a call. This indicates that your computer has run out of capacity to operate the webcam. When too many applications are running on your computer simultaneously, they eat into its processing power. This leaves limited processing power for the webcam to operate efficiently.
Solutions
The easiest way to solve this would be to close all the other applications that are currently running. Remember that there could be applications running in the background without your knowledge. For this:
Open your task manager (Windows) or the Activity Monitor (Mac).
Hover on the apps you want to close and right-click to open options.
Click End Task on Windows, for Mac, use the Stop button to force quit a background process.
NOTE: Most of the processes running in the background are system processes, so we highly recommend that closing them be a last resort after you've tried everything else and it has failed.
6: Poor audio quality
Your webcam could be showing a clear video feed but fails to pick up and transmit sound or it produces poor audio quality. This usually happens when there is an object blocking the webcam's microphone or when its microphone hasn't been selected among the audio devices.
Solutions
First, check if there is any object that could be blocking the microphone and remove it. Then configure your computer's audio settings to include the webcam's microphone as the audio device to use this way:
Go to settings and select
Under Input, select your webcam's microphone as the audio device.
Some webcams don't have good-quality microphones and it might be better to use your computer's microphone.
7: Webcam not showing in the device manager
This is a rare problem that only Windows users can encounter. Suppose you've experienced issues with your webcam and you want to troubleshoot it, and when you get to the device manager, you can't find your webcam among the devices. This could happen because of a variety of reasons such as:
The device manager has placed it in a different section.
Outdated drivers.
The operating system has been corrupted by a virus.
Solutions
Depending on the root cause, you can solve this issue in the following ways:
Open the device manager and check for cameras in different groups such as Imaging devices, USB devices, or USB device hub.
If you still can't find it, you should consider updating your drivers.
Use your antivirus to scan for malware and fix the issues detected.
Key Takeaways
Your webcam can stop working due to a variety of issues. By following the strategies in this guide, you can take a proactive approach and solve these issues yourself. However, if the issue persists, get in touch with I.T. support company to fix it for you. Remember that it is a best practice to have a managed service provider conduct regular maintenance on your equipment, webcams included.
Read Our Other Cybersecurity Training Guides
You can follow us on social media @cinchit for free tech tips and guides. Read more below for a handy list of business I.T. support services that we troubleshoot every day:
– Top 5 Password Manager Apps for Your Business
– Google Meet: How to Screen Share on a Mac
– How to Spot Fake Links in Your Emails
– Top 5 Cameras for Professional Zoom Meetings
– How to Find the Best Local Onsite Support
– Top 5 Computer Monitors to Work from Home
– Is Your Microphone Not Working on Zoom? Try This!
– Top 5 Antivirus Programs to Keep Your Computer Safe
– Troubleshoot a Multiple Monitor Display Issue
– How to Set Exchange 2013 Email Message Size Restriction
– Export Outlook Cached Email Addresses
– How to Safely Work from Home
About Cinch I.T.