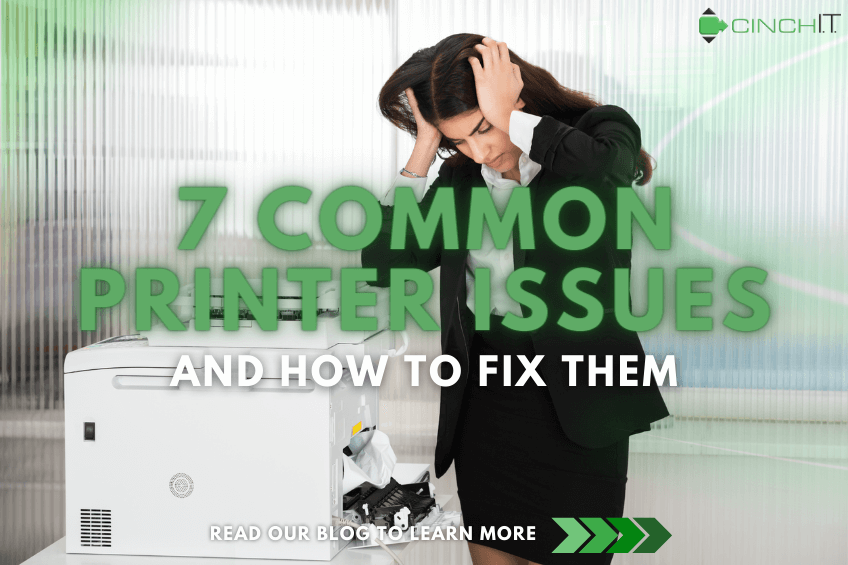 Despite declining printer use, many businesses and homes still own and use them. Your business has one or two printers that you use for your daily operations. Since printers are relatively low maintenance, you might not think too much about them until you face printer issues like delays or breakdowns.
Understandably, this can be very frustrating as it will disrupt your daily routine. But worry not! In this post, we'll cover some of the most common printer issues and walk you through how to fix them. You can fix some of these issues yourself or get a computer support professional to do it for you.
Let's get right into it.
1) Connectivity Issues
Recent printers like Apple and HP don't need cables to connect to a computer. You can connect them to the same WiFi your computer uses and print your documents directly without a wired connection. 
Although these printers are convenient, they're also prone to connectivity problems. When this happens, the connection between your computer and the printer is severed – you won't be able to print anything from your computer. So if you try to use your printer and you find one of these error messages: "Printer is offline," "Connection failed," or "Network error," here's what you can do to fix it.
Solution
Before attempting to fix this, confirm that your printer is powered up and ready. If you have a router, you should also check if it is plugged in and working. After confirming this, here's what you should do: 
– Restart the printer and computer. This step should fix any underlying issues that could cause connectivity problems. 
– Update the printer's drivers to the latest versions. 
– Move the router closer to the router to boost signal strength. 
Suppose none of these quick fixes work for you. You can contact a professional I.T. support services provider to do technical troubleshooting and fix it for you.
2) Loaded Printing Queue
Suppose you only have one printer in your office; you'll have employees wanting to print documents simultaneously. If they happen to run multiple printing jobs at the same time, the printing queue will load. This queue causes the printer not to respond correctly, and the printing jobs may get stuck in a queue.
Solution
Solving the problem of a loaded printing queue is straightforward. You should check for a loaded printing queue and clear lower-priority printing jobs. In some cases, clearing these jobs can cause the printer to freeze. Here, you'll need to reboot it. If you encounter more problems, read the printer's manual or contact a managed service provider for advanced technical support. 
3) Paper Jams
Paper jams are the most common printer problems. They occur in two ways:
Typical paper jams: When sheets of paper get stuck inside the printer, disrupting the printing process. Typical paper jams may occur when the paper is incorrectly loaded, paper mismatch (not putting the recommended type of paper), worn-out rollers, etc.  
Ghost paper jams: When a printer reports a paper jam, you'll find no paper when you inspect it. Ghost paper jams occur when tiny pieces of paper and other debris interfere with the printer's rollers.
Solution
Fixing paper jams involves opening up your printer. So, if you're not confident, we suggest you let an I.T. support services provider do this for you. Otherwise, to solve the paper jamming problem, here's what you can do:
– Turn the printer off. 
– Open it up and locate the jammed paper or debris on the rollers. 
– Gently remove these materials and close them up when complete. 
– Power the printer up and test it to see if it works.
4) Misaligned Output Text
Although inkjet printers are very affordable, they are prone to the issue of misaligned output text. This error happens because they lack permanent heads. Hence, you replace the heads each time you put in new cartridges. When you do this, you also need to recalibrate the heads, and if you don't, you'll get misaligned text in your output. 
Solution
This issue has the most technical solution here, and we recommend that you have a computer support staff do it for you. But, if you're well-versed with printers, here's how you'll fix it:
– Access your printer utility under System Preferences > Printers & Scanners > Options & Supplies on your computer. 
– Check for the head alignment function and adjust any misalignment that you'll see. 
NOTE: If you have an inkjet printer, it is a best practice to have a managed service provider maintain your printer so that it serves you long-term.
5) Streaky, Wet, or Ugly Prints
It's not uncommon for a printer to generate streaky or ugly prints from time to time. This discoloration usually happens when you use old or damaged paper, poorly calibrate your printer, or when the cartridges are low. 
Wet prints usually indicate that you're not using the right type of paper. For example, the printer will release more ink for glossy papers and less for normal paper. If you have the settings for glossy paper when printing on normal paper, the final product will be streaky and wet.
Solution
First, ensure that the settings match the type of paper you're using or the model of the printer. Also, if you haven't updated your drivers in a while, you'll need to do so and work with up-to-date drivers. Alternatively, you can also:
– Check the ink or toner levels. 
– Replace cartridges if they are low.
– Clean the printhead or imaging drum using the printer's built-in maintenance tools.
– Run a printer calibration or alignment process to ensure proper print alignment.
6) Print Jobs Are Forwarded to the Wrong Printer
When you have multiple printers in your office, each section will typically have a default printer. So your default printer is suddenly forwarding jobs to another one is a problem. This problem could occur when you upgrade from one OS version to another.
Solution
Fortunately, these printer issues are pretty easy to fix. Here's how you do it:
– On your computer, navigate to Devices & Printers settings. 
– Click to open the Printers section. 
– Right-click on the specific printer you want to set as your default printer and select the "Set as default printer option," That's the setting you need. 
Now, all your printing jobs will run through your default printer.
7) Virtual Printer Issues
Sometimes, you initiate printing on your computer, but nothing happens, or a PDF save dialog box opens. This error only occurs in Windows PCs due to a virtual printer in the operating system called Microsoft Print to PDF. The main function of the virtual printer is to save different types of documents in PDF format. 
This virtual printer behaves like a normal physical printer, and the Windows OS may mistake it for one. As such, if you try to print and the save PDF dialog box appears, you've probably sent the print job to a virtual printer instead of the real one.
Solution
First, you'll need to check if the real printer is powered up and online – it might have gone offline, causing the print job to go to the virtual printer. If this is okay, you'll need to go back to the Devices & Printers settings (like in the previous section) and then:
– Check the printer at the top of the queue of your printing devices.
– If the virtual printer is at the top, replace it with the real printer.
– Then try printing again to confirm if the printer issues have disappeared.
Key Takeaways
Printer issues, like any other device, are bound to interfere with your day occasionally. Following the steps in this guide, you can troubleshoot and fix some of the most common printer issues. You can resolve many problems by adjusting the printer settings and regularly maintaining its parts. If these issues persist, it might be time to contact a professional I.T. support services provider. 
Read Our Other Cybersecurity Training Guides
You can follow us on social media @cinchit for free tech tips and guides. Read more below for a handy list of business I.T. support services that we troubleshoot every day:
– Top 5 Password Manager Apps for Your Business
– Google Meet: How to Screen Share on a Mac
– How to Spot Fake Links in Your Emails
– Top 5 Cameras for Professional Zoom Meetings
– How to Find the Best Local Onsite Support
– Top 5 Computer Monitors to Work from Home
– Is Your Microphone Not Working on Zoom? Try This!
– Top 5 Antivirus Programs to Keep Your Computer Safe
– Troubleshoot a Multiple Monitor Display Issue
– How to Set Exchange 2013 Email Message Size Restriction
– Export Outlook Cached Email Addresses
– How to Safely Work from Home