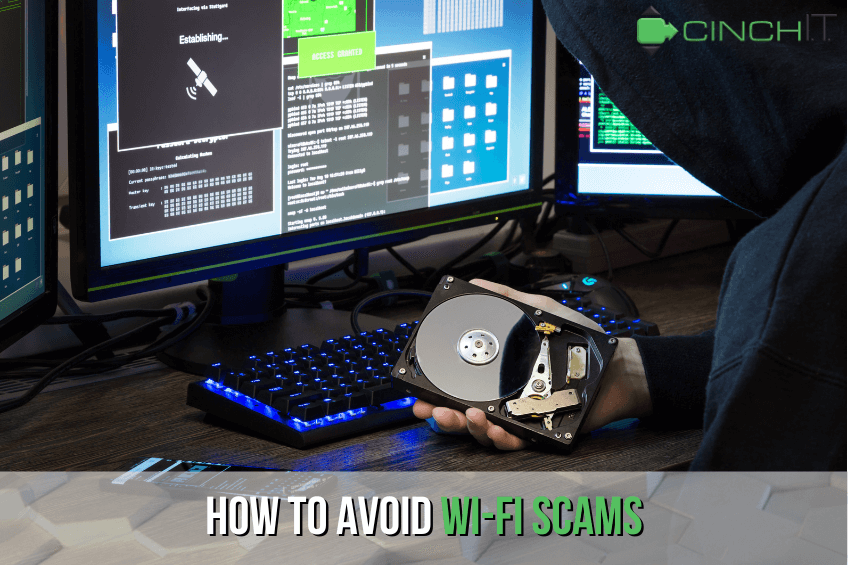 Today, public Wi-Fi hotspots are widely available in commercial and public settings, including cafes, restaurants, and transportation systems. Unfortunately, Wi-Fi scams are now taking advantage of these popular hotspots.
For many, a public Wi-Fi connection provides convenience, which is too difficult to ignore. They can access their online accounts on the go, check emails, or catch up with work. However, these connections also pose serious security threats largely because it's hard to know whether or not they're secure. Whenever office employees access their company's network over a public Wi-Fi connection, they risk their company's security.
Fortunately, there are ways to avoid this. In this post, we will explore what public Wi-Fi scams are, the risks of public Wi-Fi, common Wi-Fi security attacks, and how to avoid them.
What Are Public Wi-Fi Scams?
Public Wi-Fi scams are simply a type of fraud where cybercriminals exploit vulnerabilities in public Wi-Fi networks to gain unauthorized access to users' sensitive information.
These scams can take various forms, from fake Wi-Fi hotspots to fake websites that look legitimate to phishing emails that trick users into sharing their login credentials.
The risks associated with public Wi-Fi scams are even higher for small businesses. When sensitive corporate data is transmitted over an unsecured public Wi-Fi network, cybercriminals can easily intercept and steal confidential information, putting the business at risk of data breaches, financial loss, and reputational damage.
The Dangers of Public Wi-Fi Networks to Businesses
A survey by Forbes Advisor revealed that 56% of people prefer the convenience of connecting to public Wi-Fi hotspots over security because:
– Most public Wi-Fi networks are available for free.
– Some networks require no password authentication to connect, among other reasons.
While these benefits make public Wi-Fi convenient to most people, they also make such networks attractive to cybercriminals and hackers. Public Wi-Fi hotspots are less secure. This can quickly become a playground for malicious individuals who purposely position themselves at public Wi-Fi locations to launch a cyberattack on unsuspecting users. Hackers can easily target people using unsecured public Wi-Fi networks to:
– Steal personal information such as login credentials, credit card information, account details, or client information. They can also snoop around for confidential data for the business network.
– Infect company devices, for instance, with credentials-stealing malware.
– Take over online accounts and business accounts.
The most common example is business email compromise (BEC), where cybercriminals target work emails. In 2022 alone, the FBI reported that the BEC complaints they received resulted in estimated losses totaling up to $2.7 billion. At this point, they send fake messages asking employees to change payment information or wire transfers to fake clients.
4 Ways Cybercriminals Exploit Public Wi-Fi
As an office employee with access to a company's workstations and devices, it's crucial to understand the risks public Wi-Fi poses to business I.T. security and take proper precautions to protect your organization.
Cybercriminals often exploit public Wi-Fi networks to launch network security threats. Here are some ways cybercriminals use public Wi-Fi and how to avoid each attack.
1) Man-in-the-Middle (MitM) Attacks
A man-in-the-middle attack occurs when a cybercriminal intercepts the communication between two parties, allowing them to eavesdrop, steal data, and modify the communication.
Cybercriminals can launch a MitM attack on a public Wi-Fi network using simple tools like packet sniffers. Targets are typical users of financial applications, Saas businesses, and ecommerce sites where some logging in is required.
To avoid MitM attacks on public Wi-Fi, we recommend that you:
– Use a Virtual Private Network (VPN) to encrypt your data and protect your online activities.
– Only visit websites with a valid SSL certificate. To know if a website has an SSL certificate, check for a padlock icon at the beginning of its URL. This can help reduce the chances of an attacker stealing session cookies while a user is browsing an unsecured section of a site.
– Avoid accessing sensitive information or conducting financial transactions on public Wi-Fi.
2) Set Up Fake Wi-Fi Hotspots (AKA "Evil Twin" attacks)
Malicious attackers can also set up fake access points with similar names to legitimate Wi-Fi hotspots to trick unsuspecting users into connecting to them. Once the user is connected, the cybercriminal can monitor online activity and launch attacks on their device.
To avoid "evil twin" attacks, we recommend that you:
– Verify the name of the Wi-Fi hotspot with the business or location offering the Wi-Fi.
– Turn off automatic Wi-Fi connections on your device so you only connect to trusted Wi-Fi networks.
– Ensure your computer support or managed I.T. services provider has security protocols to monitor and block fake Wi-Fi hotspots.
3) Packet Sniffing Attacks
During this attack, malicious hackers intercept data packets sent over unsecured Wi-Fi networks using packet sniffers. Once they capture the data, they can decrypt it to extract individual login credentials or financial information, putting your business at risk of data theft and financial loss.
To avoid a packet sniffing attack, we recommend that you:
– Use a VPN when connecting to all public Wi-Fi networks.
– Make sure the wireless network is secured using WPA or WEP.
– Ensure your business I.T. support provider has implemented security protocols to monitor and block packet sniffing attacks.
– Ensure all network computers are adequately protected with antivirus and firewall software.
4) Session Hijacking
Session hijacking occurs when a perpetrator takes control of an active session between a user and a website. The hijacker can infect a user's computer with packer sniffers or malware. This gives the hacker direct access to a machine, allowing them to steal sensitive data and launch attacks on the user's device.
To avoid a session hijacking attack, we recommend that you:
– Use a VPN to encrypt your data and protect your online activities.
– Avoid accessing sensitive business data or conducting financial transactions on public Wi-Fi networks.
– Ensure your employees are trained to recognize and report suspicious activity on their devices.
No organization is safe if it has no plan to handle all entry points; a hacker can breach its data. Hackers will use public Wi-Fi hotspots to exploit unpatched vulnerabilities within a business. They can also target employees' unmanaged devices to access the business's network.
The best way for a business to deal with such cybersecurity threats is to have its I.T. department patch up all entry points. Businesses can also seek an I.T. support company's help to secure all communication protocols a hacker can exploit to help mitigate cybersecurity threats by robustly encrypting and authenticating transmitted data.
Read Our Other Cybersecurity Training Guides
You can follow us on social media @cinchit for free tech tips and guides. Read more below for a handy list of business I.T. support services that we troubleshoot every day:
– Top 5 Password Manager Apps for Your Business
– Google Meet: How to Screen Share on a Mac
– How to Spot Fake Links in Your Emails
– Top 5 Cameras for Professional Zoom Meetings
– How to Find the Best Local Onsite Support
– Top 5 Computer Monitors to Work from Home
– Is Your Microphone Not Working on Zoom? Try This!
– Top 5 Antivirus Programs to Keep Your Computer Safe
– Troubleshoot a Multiple Monitor Display Issue
– How to Set Exchange 2013 Email Message Size Restriction
– Export Outlook Cached Email Addresses