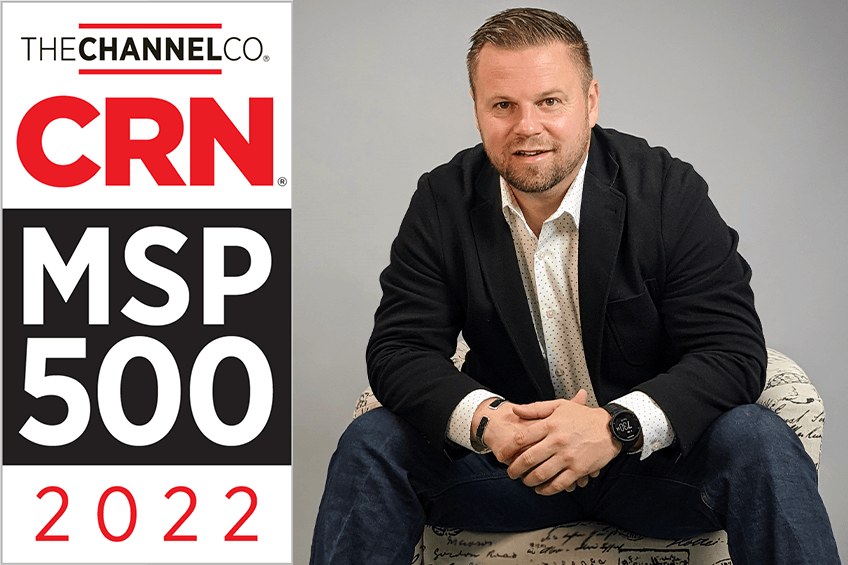 Cinch I.T. Named to MSP 500 List for 4th Consecutive Year
Cinch I.T. Recognized on CRN's 2022 MSP 500 List
Worcester, MA, February 14, 2022 — CRN®, a brand of The Channel Company, has named Cinch I.T. to its Managed Service Provider (MSP) 500 list in the Pioneer 250 category for 2022. CRN's annual MSP 500 list identifies the leading service providers in North America whose forward-thinking approaches to managed services are changing the landscape of the I.T. channel. These industry leaders help end-users increase efficiency and simplify I.T. solutions while maximizing their return on investment.
With many customers still recovering from the impact of the ongoing pandemic, MSPs have become a vital part of the success of businesses worldwide. MSPs empower organizations to leverage intricate technologies and help them keep a strict focus on their core business goals without straining their budgets.
The annual MSP 500 list features three sections: the MSP Pioneer 250, recognizing companies with business models weighted toward managed services and largely focused on the SMB market; the MSP Elite 150, recognizing large, data center-focused MSPs with a strong mix of on- and off-premises services; and the Managed Security 100, recognizing MSPs focused primarily on off-premises and cloud-based security services.
The Future of the MSP 500
"In addition to having to adjust their business operations to account for the changed conditions during the pandemic, MSPs have also seen increased demand for their managed communications, collaboration, and security services," said Blaine Raddon, CEO of The Channel Company. "The solution providers on our 2022 MSP 500 list deserve credit for their innovative and game-changing approaches to managed services in these unpredictable times, as well as their ability to optimize operational efficiencies and systems without straining I.T. budgets."
"We are thrilled to be highlighted on this list," said Rick Porter, President of Cinch I.T. "This achievement is a continuing testament to our hardworking, talented team and our collective mission to bring fast and friendly I.T. services to businesses. We're thrilled to be recognized by Channel Co. and remain focused on the potential to transform this industry in new and exciting ways in the upcoming years."
Channel Co. will feature the full MSP 500 list in the February 2022 CRN issue and online at www.crn.com/msp500.
Cinch I.T. Makes Business I.T. Support Simple



Enterprise I.T. Services
Cinch I.T.'s support plan takes your technology and modifies it to be better – more efficient, more advanced, and secure. As a result, Cinch's technicians proactively monitor every piece of your technology. If you need support, they are standing by to answer the phones or visit you on-site to resolve the problem. Cinch I.T.'s computer support plans lead to reliable infrastructure and advanced technology.
Network Security
Above all, cybersecurity and network security are pivotal to your business's success. Your daily workflow often depends upon your network. So the questions to ask yourself are: is your network safe from hackers, viruses, and outside intruders? Is the information you store safe? If you're uncertain about either of these managed services, then you should upgrade to an I.T. service provider that can. Cinch can also help by performing a free cyber-security audit, which allows you to meet the principle security requirements of confidentiality, integrity, and availability of information.
Backup and Disaster Recovery
Implementing a solution that will back up, protect, and recover your data is more accessible and cost-effective than you may think. In other words, if your server crashes or you experience a power outage, Cinch I.T. can virtualize your plans to the cloud, and you can keep running your business. Therefore, you'll be in good hands with Cinch's enterprise backup solutions.
Cloud Computing
Cloud computing offers businesses like yours many benefits. It allows you to set up a virtual office that can give you the flexibility of connecting to your business anywhere, any time, and on any device. Similarly, your server access will receive comprehensive cybersecurity and network security. With the growing number of web-enabled devices used in today's business environment, such as smartphones and tablets, access to your data is uncompromised. Moreover, your staff will have access to around-the-clock managed I.T. services for their needs.
Stay Socially Connected
Connect with Cinch I.T. on Facebook, Twitter, LinkedIn, and Instagram using the hashtag #cinchit.
About Cinch I.T.
Since 2004, Cinch I.T. has provided customer-focused I.T. services for businesses of all sizes. Whether you need a business continuity plan or complete I.T. compliance services, our computer support offers the fastest and friendliest service in the industry. Cinch is one of the nation's fastest-growing I.T. support franchises with 11 locations across six states. To learn more about our computer support service, visit cinchit.com. For more information about I.T. franchise opportunities, visit cinchfranchise.com.
Click here to find your nearest local Cinch I.T. office:
About The Channel Company
The Channel Company enables breakthrough I.T. channel performance with our dominant media, engaging events, expert consulting and education, and innovative marketing services and platforms. We connect and empower technology suppliers, solution providers, and end-users as the channel catalyst. Backed by more than 30 years of unequaled channel experience, we draw from our deep knowledge to envision innovative new solutions for ever-evolving challenges in the technology marketplace. www.thechannelco.com
Follow The Channel Company
© 2022 The Channel Company LLC. CRN is a registered trademark of The Channel Company, LLC. All rights reserved.
The Channel Company Contact
Jennifer Hogan
The Channel Company